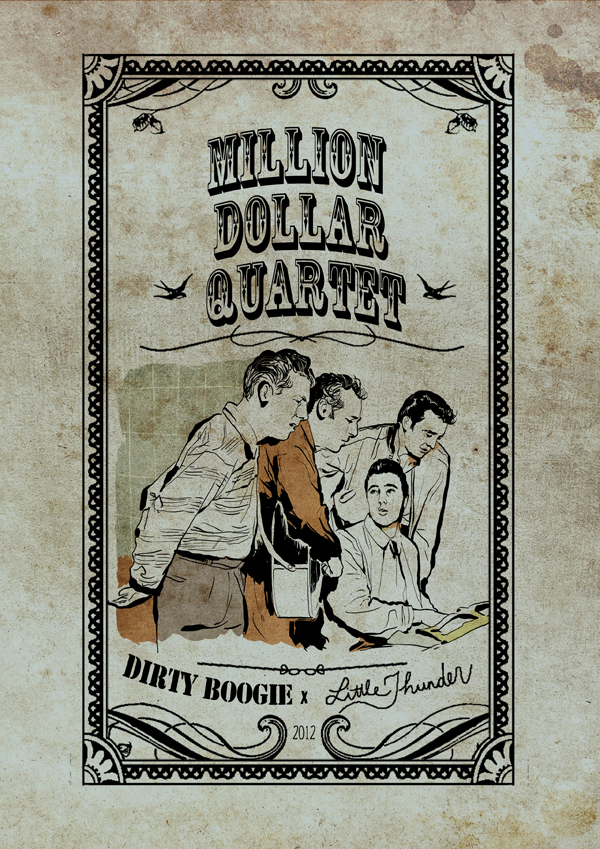 December 4, 1956, there was a jam session have happened by pure chance in Memphis. C. Perkins had come into the studio to record some new songs and had a new performer, J.L. Lewis on piano. Superstar E. Presley dropped in to pay a casual visit. J. Cash, a new country music star also stopped by, they soon had a jam session together.
A newspaper's entertainment editor came over to the studio, and the following day, an article was published under the title "Million Dollar Quartet". This is the story about these early Rock and roll stars and pioneers had jammed together the one and only time in the history.
And it is legendary.
Launch Party
Date: April 7, 2012
Time: 8pm – 10pm
Place: Rat's Cave by Start From Zero (G/F, 18A-B Tai Ping Shan Street, Sheung Wan, Hong Kong)
About DIRTY BOOGIE
Founded in 2009 by musicians and bikers, Dirty Boogie is a retro culture themed brand based in Hong Kong, and also a select shop.
http://www.dirty-boogie.com/