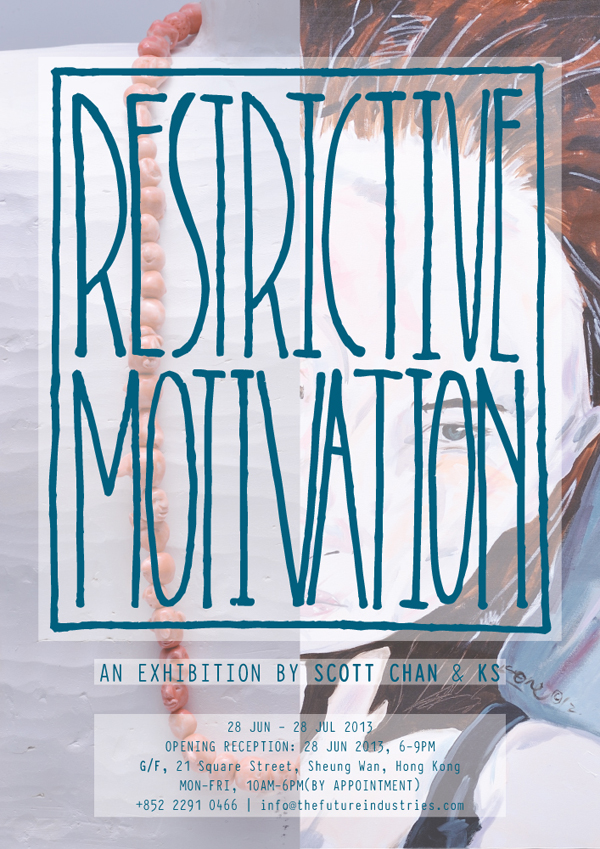 About Restrictive Motivation Exhibition
「 空間 」是這次展覽的關鍵所在,我們 (大部分) 被它所限制,空間看來是可共享的,在香 港這裡卻不是理所當然。
不是我們要去表達甚麼,而是我們還能透過利用這有限、無限的空間去創造甚麼。
「 空間 」根本就是種奢侈的東西,存在在這狹小的地方,幾乎每刻每處都要面對受到限制 的行動。既然向外好像沒有更多的空間,我們惟有嘗試選擇相反的方向向內發展。內心無限;沒有掣肘。更可以透過這裡尋找適合的「工具」繼續在外發展。
現在的世界 (社會) 都不能由我們去主導,我們只能給它牽著走。而我們這次的展覽由主題到 作品都已經不是我們出發的主意,只是外界向我們擠壓所搾取出來的思想,都是被動的。
" Space " is the key to the exhibition. We are restricted by it in most aspects.
Public space should be shared among the residents, yet it is not the case in Hong Kong.
No, we are not complaining; we are exploring what one can create with the limited vs. unlimited space. Basically, " space " is a luxury. Existing in this narrow place, we are restricted in all directions and aspects by all organizations and authorities. With the lack of external space, the only choice we can make is to look inward. Internal space is limit-less; internal space is constraint-less. And through there we could build the right " tools " for our urroundings.
In realities, we are all forced to become followers. If art reflects its time and realities, from the concept to the artworks of the exhibition are really not our ideas. The thought process is forced upon us. We are all very passive.
28 JUN – 28 JUL 2013
OPENING RECEPTION: 28 JUN 2013, 6-9PM
G/F, 21 Square Street, Sheung Wan, Hong Kong
MON-FRI, 10AM-6PM(BY APPOINTMENT)
+852 2291 0466 | info@thefutureindustries.com