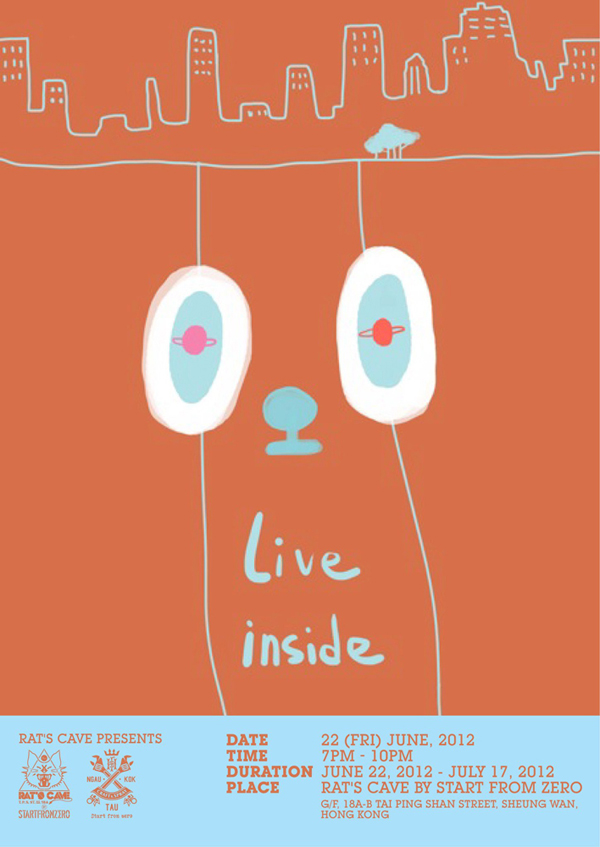 Rat's Cave presents LIVE INSIDE exhibition By Ng Ngai Chung
Opening Party: 22nd June 2012,7 – 10pm
Opening Hour: Mongday – Saturday 1-7pm
Duration: 22nd June – 17th July 2012
Venue: Rat's Cave by Start From Zero
Address: G/F, 18A-B Tai Ping Shan Street, 852 Sheung Wan, Hong Kong / 香港上環太平山街 18A-B 地下
About LIVE INSIDE Exhibition
所有生命都是暫住在地球上,以不同的型態去生存,以不同
的目的去成長,
我們住在所謂代表自己的身體裏慢慢長大慢慢衰老
在這整個過程裏有不同的事物介入大家的生命,
是人,是物,還是環境?
這一切都會變作感情住在你內心,無論是愛是恨
它都會永遠住在你身體內伴隨住你。
All lives are temporarily living on this planet Earth, in different forms, growing up with different objectives and goals.We are living in bodies so called "Ourselves", aging slowly.During this entire process, there was so much influencing our lives,Was it human? Objects? Or environments?All these will be transformed into feelings and emotions living within your heart, either love or hatred, and it will remain there within you, forever.
About Ng Ngai Chung
吳藝忠
1989年在廈門出生, 香港成長。
自幼便開始畫畫畫,
喜歡與人分享自己所畫的, 所想的。
對很多事情還在探索思考。
born in Xiamen in 1989 and grew up in Hong Kong,
started to doodle when he was little.
He likes to share his drawings and thinking with other people.
NgaiChung still explores and ponders on a lot of things.